Gatwick Terminal Information
Ace Airport Parking have been operating out of Gatwick Airport for many years and over this time there has been a huge increase in the flights and airlines sharing this much larger space.
Here we round-up the latest selection of airlines that fly out of Gatwick and the options available to you at both the North and South Terminals.
If you are unsure which terminal you are flying from – check here.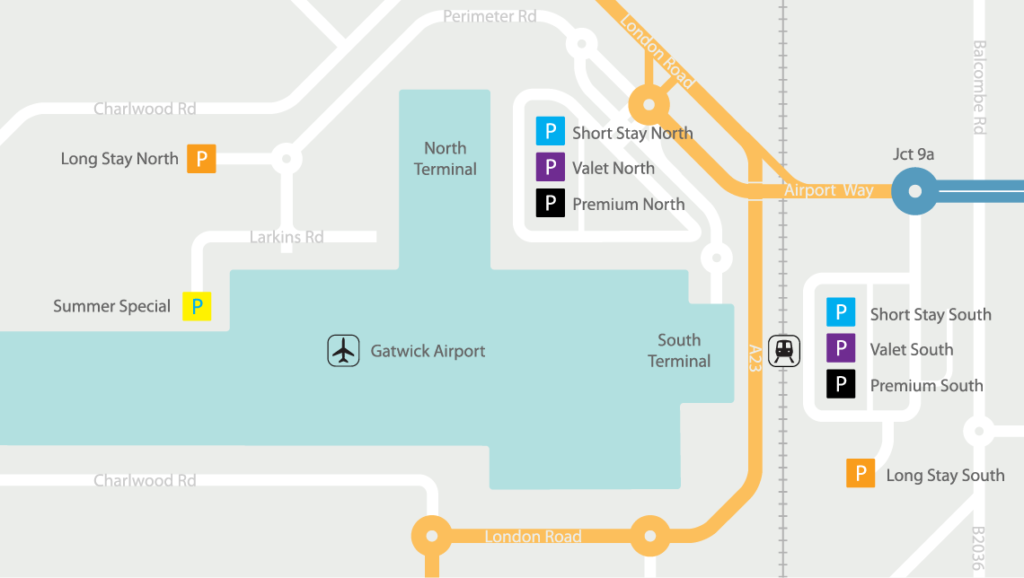 When flying from Gatwick, firstly check which terminal you are flying from.  There are two terminals, both the North Terminal and the South Terminal.
Gatwick North Terminal
Checking In
Head to level 2 of Gatwick's North Terminal for all the checking in desks.  It is always advisable to arrive well in advance of your flight to ensure you have enough time to check in, drop off any hold luggage and get through security.
The advised times are:
International / long-haul flights – check-in opens 4 hours prior to departure
European flights – check-in opens 3 hours prior to departure
Domestic flights (UK & Ireland) – check-in opens 2 hours prior to departure
Self Service Check In
Passengers can use self service check-in both online and in kiosks located around the airport. Not only is it is a rather simple process, it's safe, saves passengers a lot of time and helps the airport to manage the passenger flow through the terminal. The North Terminal has the self check-in kiosks located near the standard check-in desks. Of course airline staff will be present and happy to help.
In this terminal, you can use this service if you are flying with:
easyJet
Flybe
Norwegian
Virgin Atlantic Airways
WestJet
Airlines that operate from the North terminal include;
Aeroflot
Air Canada
easyJet*
Emirates
Icelandair
Meridiana
Royal Air Maroc
Thomson Airways
Tianjin Airlines
Virgin Atlantic
Vueling
West Jet
Gatwick South Terminal
The South Terminal at Gatwick offers a wide variety of services to make the flying experience smooth and stress-free, as much as it's possible.
Checking In
Check in desks are located on level 2 at Gatwick's South Terminal. Passengers are advised to arrive well in time for their flight to ensure they have plenty of time to go through security. Make sure you check in with plenty of time prior to your flight.
Airlines that operate from the South terminal include;
Aegean Airlines
Aer Lingus
Air Arabia
Air Baltic
Air Europa
Air Malta
Air Transat
Aurigny
Austrian
Belavia Belarusian
British Airways
Cathay Pacific
Croatia Airlines
Enter Air
Flybe
Germania
Iberia Express
IcelandAir
Iraqi Airways
Med-View Airline
Montenegro Airlines
Norwegian
Pegasus
Ryanair
SATA International
Small Planet
Swiss International Airlines
TAP Air Portugal
Thomas Cook
Titan Airways
Travel Services
Tunis Air
Turkish Airlines
Ukraine International Airlines
Wizz Air
WOW Air