Ace Parking Services – Make It Simple!
Here at Ace Parking, we specialize in Meet and Greet parking. We started this service over 24 years ago at Gatwick Airport and now we work at most of the airports around the UK, making us the largest independent meet and greet provider in the UK.
Although meet and greet parking is our forte, we also offer other great Ace Parking approved parking packages such as; airport hotel packages, hotel and park packages, valeting, and park and ride too.
MEET & GREET PARKING
Our meet and greet airport parking packages are still our most popular package as it's the easiest, most convenient way to park at the airport.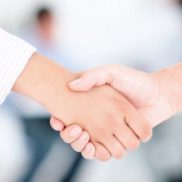 Meet & Greet Parking
Park Mark awarded Car Parks
Fully insured & CRB checked drivers
Meet outside the airport terminal
Car Parks manned or patrolled 24/7
How meet and greet parking works:
On arrival
Simply drive to the terminal in your own car
Meet with our professional, insured and CRB checked staff
We'll conduct a quick check over your car and take pictures
You can then walk into your terminal to catch your flight
Our drivers will drive and park your car for you, in our highly secure car parks within the vicinity of the airport
On your return
Our driver will meet you outside of the terminal with your car
Then simply drive home, or onto your next destination
Why meet and greet?
Meet and greet parking is the easiest way to park at an airport
It's the quickest way to park as there are no airport transfers
No long walks in the dark / rain from Airport long stay car parks
Great for business people, the elderly, families and disabled customers – in fact everyone
Safe off site parking that's monitored and patrolled 24/7
Much cheaper than you think
You can easily book your meet and greet airport parking on our website, but if you have any questions at all, please feel free to give us a call on 01293 533 000
PARK AND RIDE STANSTED AIRPORT
We now offer Park & Ride services at selected UK airports.  Whilst our Meet & Greet service offers great value and convenience, Park & Ride can offer even greater value for money whilst still offering the same peace of mind and security. Our shuttle services are included in the price, are just a short journey to the terminal and run frequently.
park and ride image to be added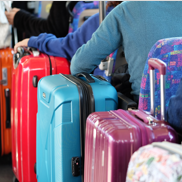 Park & Ride
Safe & Secure Parking
Park Mark awarded Car Parks
Fast & Frequent transfers included
To the airport:
Simply drive to our car park at Stansted Airport, which is located within the Airport perimeter.
Drive in and park in one of the arrival bays by the entrance where our representative will greet you.
They will double check your return details, and check over your car – this is a photographic inspection for yours and our peace of mind.
Your car will then be safely parked up in the car park until your return.
You'll then be driven a short distance (3 minutes) to the Airport terminal.
From the airport:
On your return to Stansted Airport, simply call us to let us know you have landed and are ready for your transfer to collect you.
You'll then be brought back to your car, ready for you to drive home / onwards
Valeting
Our valeting packages will appear as an option to add to your airport parking when you book through us* subject to availability. If you have any enquiries about our valeting services, please do give us a call on 01293 533 000.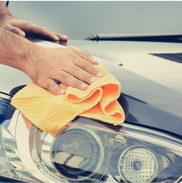 Valet Packages
Professional Cleaning Service
Freshly Valeted within 24hrs of your return
Ace Members save on our standard rates