Our REAL reviews with Feefo Gold Trusted Service Award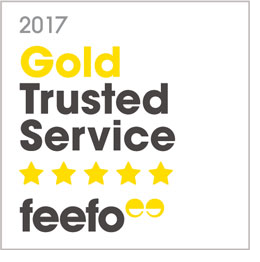 We have entered the era of online buying. With the internet, quite literally, at the tip of our fingers in the form of phones, tablets, and portable laptops, our buying trends have gone from weekends and evenings (when we were commonly more free), to every minute of the day. As soon as you feel you need or want something, whatever you are doing or wherever you are, you can simply jump online and book or buy within just minutes. Things that could ordinarily not be bought online now can be; from our cars, to holidays, food shopping, builders, plumbers and of course our airport parking. More and more we are steering away from physical shops, calling companies up and buying in person.
We are so time-conscious that it seems, these days, it's just unnecessary to take the time out to purchase a service or goods. Years ago, buying online wasn't as popular, it was deemed to be extremely hit or miss; you never knew what you were getting as it wasn't tangibly in front of you to feel and physically see. You would order a product that looked amazing in pictures, and had a great write up but, when you received it, the quality was poor and it wasn't what you were expecting at all.
THE INTRODUCTION OF REVIEW SITES
Most large sites like Ebay, Amazon and other leading online retailers allowed customers to review what they had bought, and let other people know about it. This system began squashing the notion of 'hit and miss' online buying as it started to become impossible to try and rip people off, offer fake services, or misrepresent a product. If people didn't get what was advertised they simply left a review, so others would then know not to buy it. From letting people know what the product itself was like, to the buying process, right through to the customer service; people were free to write anything they wished and experienced. Independent review sites were also born like Tripadvisor, Trustpilot, and of course Google also got in on the action.
It was working well.
I'm sure each and every one of us has used reviews to buy haven't we? We follow suit; shop around for the best price and then check the reviews of not only the product, but the company selling it. We rely on the reviews to finish our buying process don't we? They tell us if the service of a company is what they've promised, or whether a product actually works / is worth the money we are about to spend on it.
FAKE REVIEWS
But alas, with anything that seems to be going well, there are always going to be people who ruin it; and something that once worked, actually started to work against the online suppliers and retailers again. Thus the fake reviews were launched. Dishonest companies and rogue traders found a flaw in the review systems; the fact that they are unregulated, unmonitored and, the main factor; that anyone could leave a review of a company, even if they hadn't purchased from them. This allowed these corrupt and insincere establishments to go against their competitors, and write bad and negative reviews for their rival's products and services, consequently deterring potential customers away from them. It worked the other way around too; companies could leave and write positive reviews for themselves, leading consumers into a false pretence and trust, when truly, they were rogue traders.
It's still going on today, and there a million articles describing how to spot a fake review and warning people to read a range of reviews, maybe on different sites, rather than just a few on one site.
Here at Ace Parking , we too were hit with a negative competitor injustice. We are one of the largest and most successful airport parking suppliers in the whole of the UK, and although we had extremely happy customers, the reviews on these open platform sites started to state otherwise. Hard to prove a fake review, and even harder to take action against them, we decided we needed to do something.
This is where Feefo came in, real reviews, from real customers, with real bookings.

Feefo is a review site with a difference. They invite the REAL customers and consumers of a product or service to leave a review from a site that they have actually bought from. This means that every review for that site is genuine, it has come from a real person, and they have 100% purchased from or used the service. No one can leave a review for that company if they're not a true customer and haven't been invited to. In our instance, when someone books their airport parking with Ace Parking, they are individually emailed afterwards and asked to honestly review their parking experience with us.
HOW IT HELPED
Since using Feefo as our review site, we have gained an invaluable insight into what our consumers really think. We now don't have to deal with any fake reviews, and waste time trying to find the booking of someone who hasn't actually booked with us. Now we can concentrate wholly on our real customers. We can reply and personally thank them for the positive reviews, and let them know we couldn't do it without them. Also, we can, more importantly, tackle any issues that have arisen for some customers. We're then able to address them, take them on board, rectify and resolve and, again, reply personally to that customer and let them know that we are doing something about it.
Not only is this helping us really connect with our customers, it's constantly allowing us to learn and grow and improve our service. It's also really helping us retain customers that we might have lost in the past as they never got an answer to their review or problem.
Using this genuine review system has helped so much so that Feefo themselves have recognised Ace Parking, and they've just granted us their Gold Trusted Service Award!
FEEFO'S GOLD TRUSTED SERVICE AWARD
Ace have met the criteria of collecting at least 50 reviews receiving a Feefo review rating of, at least, 4.5 out of 5 stars. (Our actual numbers for the last year are over 35000 reviews with an average of 4.5/5)
The award is an independent seal of excellence that recognises businesses like us for delivering exceptional experiences, as rated by real customers only. The Trusted Service is awarded only to those businesses that use Feefo to collect genuine ratings and reviews. We have to meet a very high standard regarding not only the amount of reviews, but the review scores also.
THE FEEFO BADGE OF HONOUR
This badge of honour and accreditation from Feefo, that we will now wear proudly on our website, has shown us that we are, indeed, still the leaders in our airport parking field. We now try to only go by these reviews as every customer is invited to leave honest feedback. We now know what our genuine customers are really saying, and can ensure that we go back to them all personally, which is letting us constantly learn and grow, and keeping our customer base happy.
We're so happy that we started to use Feefo as our review site, and look forward to continual success working in partnership with them. Our feedback is now authentic and matched to legitimate transactions, meaning our customers can buy with confidence and we are starting to combat the issue of fake reviews.
We invite all our customers to gaze through our reviews at any time, and look forward to you leaving your own feedback when you've made a booking with us.
From all of us here at Ace Parking;
Thank you Feefo for the Gold Trusted Service Award and sincere thanks to our customers for the positive feedback too!