AVOID AIRPORT PARKING ROGUE TRADERS – SAFE AIRPORT PARKING
AVOIDING ROGUE TRADERS – SAFE AIRPORT PARKING
In life there are honest people and businesses, who offer genuine services, you pay money and get exactly what was advertised and paid for. There are also those out there to hoodwink, trick, deceive, rip us off, pull the wool over our eyes and generally be dishonest for our money. Unfortunately, we see it in every single industry; does Redbull really give you wings? Is that meat from Tesco (and all other supermarkets) beef or actually horse? Will that eye cream make you look ten years younger? Is this car going to break as soon as I drive away? Is the phone actually stolen or will that big advert on a double decker bus to make us vote, actually happen?
False advertising: we see it all the time don't we.
We are in a world of fake news, fake reviews and there's some pretty fraudulent people out there. However, it's definitely not all doom and gloom! If we are aware, and savvy, and make sure what we purchase is real and genuine, then these fraudsters will (hopefully) wear thinner and get less business.
So how do we do this? How do we separate real products and services from rogue traders? Here are a few tips;
REVIEWS
Make sure you check reviews, not only on the site itself but on a few different review sites. It's also better to read reviews from actual customers and verified purchasers because you know that they have truly used the product or service. We use Feefo for our reviews for instance, and we've seen a huge difference. They simple email a private link to every customer that has used our airport parking, so the reviews we receive are genuine. This helps our businesses as well as our buyers, as we can deal with any real issues, and thank our customers for great feedback. It's often hard to whittle out fake reviews on unverified review sites.

REPUTATION
Make sure you are using a reputable company. Check where they are based. How long have they been running? How easily is it to contact them? If you are unable to actually call them, and easily make contact before the purchase, this is not a good sign because if something does go wrong, you'll struggle after sale too.
ACCREDITATIONS
Many sites will also come with accreditations from bigger establishments, to prove that they are a safe and reliable retailer. Using ourselves as an example, as an airport parking company, we are Gatwick Airport approved, we have a Park Mark Award, a Trading Standards – Buy with Confidence Award and we've also been running for 24 years, so we have to be doing something right! A company offering airport parking, and asking for cash, parking your car somewhere that isn't safe, with no accreditations could potentially lead to your car being damaged, stolen or simply not cared for whilst you're away.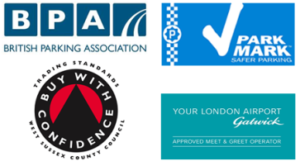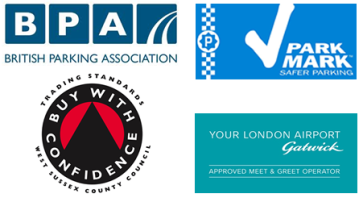 HOW TO PAY
Paying in cash or sending a bank transfer will not really secure your purchase. I once bought an expensive concert ticket from a private seller online, transferred the money and nothing ever arrived and he disappeared from the airwaves. When I called the bank, they couldn't do a thing as I had sent the fake seller the money. However, if you pay via credit card or through an online payment company like the renowned PayPal, you'll be safer. Your credit card company will often protect your purchases and if you don't receive goods or service.  PayPal will almost always refund you and take it from the seller.
SECURE SITE
Ensure that the website that you are buying from is also secure, as you don't want to be entering all your credit card details and addresses into a site that isn't protected from hackers etc. The simplest way to check this is to look at the navigation bar, and the websites address or URL. As you go to a payment page there should be a clear sign that the website has a Secure Sockets Layer, known as SSL. These signs include;
* The URL of the website starts with https:// meaning it's secure. The S at the end of http it's a signal of the security of the site.
* The browser might show a padlock symbol next to the URL. This also means the site is secure.
* Some browsers will show you the URL in green when it's a secure site.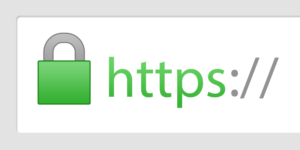 CHECK THE SMALL PRINT
Before you commit to buy anything, make sure you know the terms of service and return policies of the company. It may be that you are signing up for a monthly fee without knowing, it may be that you aren't able to return it if it's not what was advertised. You may not be able to cancel your order and in some cases you may be hit with extra postage or duty charges. Try and read the information carefully before you purchase anything, so you know exactly what you are getting into.
SECURE CONNECTIONS
Try and avoid making online purchases on public Wi-Fi networks and on public computers. Many people don't think about this but it's actually one of the most common ways for hackers to get your details. These networks and computers are often unsecured. This means that others joined to that same network can access your details and go and use them for themselves. Rather, buy things when at home, or at a friend's / families house with a private Wi-Fi network.
NEVER GO ALONE /MEET IN PUBLIC
If you are buying something privately online, but then have to go and meet the person for it, do not go alone or make sure you meet during the day, in a very public place. This might sound a little far-fetched, but we have heard of people choosing private airport parking (where people rent their drives near to an airport) and the people wanting to park have turned up and it's dark and they felt unsafe so they parked at the airport last minute instead, culminating in paying a significant amount more. You never know who the person really is and, although 90% of the time people are genuine, you have to be aware that there are some that unfortunately aren't.
We hope these tips will help when you're looking to purchase goods and services online.
We wanted to write about this subject at the moment because we have heard quite a few stories about rogue and illegal airport parking, which have stung a few of our customers lately. There have been a number of prominent stories in the news around it to. A company called Airport Parking Limited, which was actually just two men with a field, who offered cheap 'airport parking at Gatwick' but as aforementioned it was just a field. It also had no security, no regulations, no insurance and they were found to have left customers cars unlocked etc. Thankfully they were sent to court and fined a lot of money, but there are others just the same.
So although using illegal or 'private' car parking close to airports may be cheaper, there are reasons why they are cheap;
Their insurance – if something goes wrong with your car, even if it's not the fault of the 'service' provider, you can't claim in on their insurance if they don't have any
Your insurance – your policy may not cover you either if you have parked in an unregulated and unsafe place.
You vehicle is not protected or secure. There often won't be CCTV, there won't be patrols, it's really just leaving your car and hoping for the best. Not something you really want to be thinking about whilst you're on holiday.
It could be unsafe for you. You don't know this person or the area where they live, have the space.
They could take your cash and run. The parking place could not even be theirs, so they'll get paid and never be seen again. Rare but it does happen.
Your car could be stolen – OK in extreme cases, but again, it has happened more than you think it has.
Don't panic though!
There are way more genuine parking operators than fake. Here are just a few tips for when you are selecting an Airport Parking Company;
Park Mark Awarded – This is a must for any company worth their socks in the parking world and, for you as a customer, it's important that you look for their sign. A Park Mark Award means that the car park has passed rigorous tests set by the police. It's a national police-backed initiative. It's awarded to parking facilities that are properly managed and maintained. They also provide a safe environment for both vehicles and customers.
Read about the car parks on offer, and make sure they have CCTV and are patrolled etc.
Make sure the company is accredited and even better if they are airport approved. Many airports will approve airport parking companies, especially their meet and greet services. We are Approved Gatwick operators for instance.
We hope this helps with all your future online purchases and airport parking. If you'd like a quote from us here at Ace Airport Parking, check out our website. You'll see all the safety and security measures we've mentioned too! For all other tips and tricks at the airports and the latest news, head to our news page.