Our Partners and Accreditations
Proud to be caring for you and your car.
Ace Airport Parking operate secure car parks for parking at Gatwick, Birmingham Airport Parking and Heathrow Airport Parking and have a whole host of measures in place to ensure you and your car are safely stored whilst you are away.
Ace Airport Parking is proud to be part of the Gatwick Airport Approved Operator Scheme, Trading Standards 'Buy with Confidence' award at Gatwick and IAPA the UK's independent airport parking authority. We are also Park Mark Approved.

Every one of Ace Airport Parkings car parks have achieved the Park Mark award for security. Some of the security measures that contributed to these awards include CCTV, security lighting and barrier control.
Gatwick Airport Parking
Ace's Gatwick Parking is conveniently located just outside the North or South Terminal and offers both Meet and Greet and Park and Ride options 24 hours a day. Efficient, friendly service is what you'll get when you book your Gatwick Parking with Ace Airport Parking.
Furthermore, Ace Airport Parking is one of only a handful of parking companies approved by Gatwick Airport.
Park Mark Approved
You can be safe in the knowledge that our car parks have been inspected by a specially trained Police Officer.
We insist on security systems such as alarms and/or CCTV.
The car parks are re-assessed all the time to maintain the Park Mark award.
Approved by West Sussex Trading Standards, every approved operator is required to demonstrate that their parking facilities meet planning and security requirements.
Stansted Airport Parking
Safe, and secure, each car park boasts full security, friendly staff, and CCTV, Stansted Meet and Greet Parking is an ideal option for those looking to park quickly, and conveniently, as it is right next to the terminal, and saves you time.
Our car parks at Stansted are Park Mark Approved, which is an award given to car parking facilities that have demonstrated safe and secure car parks and have taken steps to ensure that they're maintained and inspected regularly.
Only awarded car parking companies are permitted to display the logo, and we are proud to be one of them.
IAPA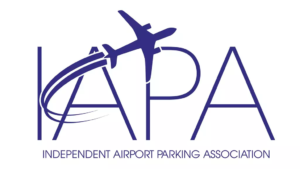 Ace Airport Parking are a member of the Independent Airport Parking Association (IAPA).
As members of IAPA – the independent Airport Parking Association, Ace Airport Parking are helping to promote high standards of security and customer care.  Read more about our IAPA membership here.