Is parking your car at Gatwick the cheapest option?
The Cost of Parking at Gatwick Airport.
Many might think that airport parking is the most expensive option when deciding how to get to Gatwick Airport and in some cases, that's true. If you simply arrive at Gatwick and park without booking, in the Gatwick Airport Parking spaces on site, it could end up costing more than your break away!

However, not ALL Gatwick parking is expensive, and after working out all the additional costs for public transport, airport transfers or taxis; pre-booking your parking with Ace Parking could actually be the cheapest, and by far the easiest option.
There are many ways to get to Gatwick, below we'll go through them all, and give you rough costing; so you can see just how much you could save yourself.
(All prices and suggestions are from central London, please be sure to add on your additional costs of travel if you live outside of London.)
Getting to Gatwick Airport by Train / Rail
There is a dedicated rail station at Gatwick's South Terminal, with a free transit train going to the North Terminal too. There are many different  HYPERLINK "http://clk.tradedoubler.com/click?p=3447&a=2371556&url=http://www.thetrainline.com/Train-Times/gatwick-airport-to-london-victoria" trains to London from Gatwick airport. All Rail information and ticket desks are situated in the arrivals areas of both the North and the South Terminal.
The fasted way to get to central London is on the Gatwick Express, which takes 30mins and goes directly to London Victoria from Gatwick Airport's South Terminal between 4.35am – 1.35am. Tickets cost £17.70 one way, and £31.05 for a return (very pricey if there are a few of you in your group)
Onward travel prices from Victoria will range massively depending where you are going in London, or the UK. London is famed for its underground tube network, and is somewhat well priced if you have an Oyster card. (Fares from £2-£3) Trains to the rest of London and the UK are served by Southern, South-eastern, First Capital Connect, and CrossCountry Trains, and are often highly priced (when going outside London) especially if not pre-booked.
Getting to Gatwick Airport by Coach
Although the slowest option, there are two companies that run frequent coaches from London to Gatwick Airport.
National Express takes anything from 1 hour to 1.5 hours, as they also stop at areas such as Streatham, Hooley, Wallington, Mitcham Junction, Mitcham London Rd, Pimlico and Stockwell. They can be busy, get stuck in traffic, but do have prices from around £8.00 one way, but only if you book in advance.
Taking a little shorter a time at about 1 hour, due it being a direct service between Gatwick Airport and Earls Court/West Brompton, is the Easybus from Easy Jet. They run night and day, and again can cost around £7 to £8 one way. Cheap if you live near the London departure and pick up points, but reliable in London traffic when you have to catch that flight? What's more, lugging around all your baggage and children may create a whole lot of stress before you even get to the airport.
Taking A Taxi To Gatwick Airport
This will by far be the most expensive option, coming in at anything from £100 depending where you are going, and of course how much traffic there is. (We definitely wouldn't want to be stuck in a black cab running on meter in standstill on the M25 or central London!)
They may be convenient, and there will be an abundance of them waiting just outside arrivals for you; it's whether you are able to pay such a high price for that convenience.
Please note: The official Gatwick taxi company is Airport Cars Gatwick, although there will be other companies and black cabs available. Ensure it is a reputable company or a black cab, they charge by meter, or give you a confirmed estimate before you get in.
Driving your car to Gatwick
We'd probably all agree that packing your suitcases and family / friends into your own car, and driving directly from your homes to the airport is probably the easiest and most convenient way to get to Gatwick. You'll arrive together, excited, and ready for your trip ahead. However, many follow the myth that airport parking prices are the most expensive way to get to the airport.
We look at the airport parking below for you.
Gatwick's Airport Parking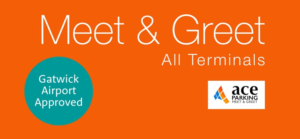 Onsite Gatwick airport parking approx. £15-£20 p/d:
Gatwick's onsite parking, with long stay and short stay options.
Advantages – On site / some spaces could be near to the departure area / internal transfers
Disadvantages – More expensive / still have to transfer or walk in the darker hours to your car / hefty charges if flights delayed / handling children & luggage
Park & Ride Gatwick airport parking from approx. £9 p/d if long stay:
Just on the outskirt boundaries of the airport, Park & Rides allow you to park your car, then jump on a transfer / shuttle (usually free) to the departure area.
Advantages – Mostly safe / better value than onsite / quite close to the airport Disadvantages – Still have to transfer / shuttle in the darker hours to your car / hefty charges if flights delayed / excess baggage a pain to haul around / handling children & luggage
Offsite airport parking (From £8 p/d ): Car Park out of Gatwick Airports boundaries such as a surrounding hotel.
Advantages – Often cheaper than offsite
Disadvantages – Safety / Transfer time & cost to the airport / Baggage having to be hauled around / handling children & luggage
Then there's us, Ace Meet & Greet Valet airport parking, from just £5.99 p/d:
Not only do we have a price match guarantee, so if you beat our price for the same service you get the parking free; but we're approved by Gatwick Airport themselves as a certified Meet and Greet / Valet Parking Service at Gatwick.
No wasted time on public transport, no paying extortionate fees in taxis, no wondering around looking for your car in the dark car parks in the middle of the night.
Simply drive directly to departures, meet your professional Ace valet driver, hand them the keys, and be safe in the knowledge that your car is driven / parked safely, and will be there at Arrivals (pre-warmed/cooled) when you touch down again at Gatwick.
Perfect for families, the elderly, those in need of special assistance, business travellers, school & sports groups. It's the least stressful and easiest way to park at Gatwick and believe it or not, one of the cheapest ways too.