How to save money at the airport.
TIPS ON HOW TO SAVE MONEY AT THE AIRPORT
Airports are notoriously expensive aren't they? Around the World, I think you'd struggle to find an airport that is actually reasonably priced. The airports know that they can hike up their prices; sometimes a 100%, 200% and even 300% mark up on high street price tags because, often, travellers have no other choice. The airports, they know this, and their prices reflect it. If you have forgotten something for your holiday like travel accessories, if you've left changing your currency to the last minute, and if you just turn up in your vehicle to park at the airport; you are always going to pay the most premium prices. Even high street shops that are in the airports like Boots, WHSmith and others are more expensive than their high street counterparts.
As one of the UK's largest independent Airport Parking Specialists, we have quite a bit of experience of being at the airports, especially Gatwick Airport where we started our renowned and approved meet and greet parking, over 20 years ago.
We thought we would compile a list of ways to save money at the airport, so you can put those savings into something more important, your upcoming trip!
PRE-BOOK AIRPORT PARKING
OK, so since we are all about airport parking, we thought we would start with it! It is absolutely imperative, if you are planning to drive and park at the airport that you pre-book in advance. If you just turn up to the airport on the day and try and park, you could not only risk missing out on a space (in high season), but you will also pay ridiculous prices. Rather, do some research and look for the best airport parking option for your personal circumstances..
Meet and greet parking– we are approved Gatwick airport parking specialists and provide our award winning parking service at other airports in the UK too. It is definitely the easiest and fastest way to park at the airport, and much cheaper than many people think. There is a stigma, due to it being so convenient, that you would pay high prices for the luxury of dropping your car right outside departures, letting us park it, and then meeting again at arrivals on your return.  In fact, we are cheaper than many other parking options, at Gatwick and other airports like Stansted, Heathrow, Birmingham and Edinburgh. If you're looking at airport parking at the moment, why not get a free instant quote, and see just how competitive we are.
CURRENCY EXCHANGE
We highly advise if you are going away, to change your currency before you get to the airport. We see it all too many times with our parking customers, and they get stung at the airport with the worst exchange rates, and commission prices. Make sure you check the actual exchange rate on sites like www.xe.com, and then go and compare what the banks and high street agencies are offering. Many will be commission and fee free, like the Post Office, but then then might have a slightly worse exchange rates. Whereas some may have a small commissions, but then have the best exchange rate. Look into them all, there are even comparison sites online for this. It will make a world of difference, and if exchanging quite a lot, could save you a substantial amount, compared to exchanging at the airport.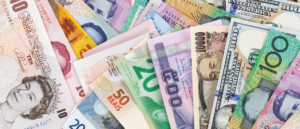 DON'T BUY FOOD AT THE AIRPORT
Yes, even food is more expensive at the airport. Even high street restaurants will have inflated airport prices, compared to their other high street branches. Plane food also, does not only come with a price tag to make your eyes water, but it's also pretty rubbish too! More and more we are seeing holiday makers come with packed lunches like sandwiches or homemade salads. These can be pre-packaged and bought from cheaper shops like supermarkets, or to be even cheaper, why not make them yourself at home?  You are allowed to pass security with foods like this, just remember no liquids, so soup in a flask in a definite no go. Unfortunately, baby food is also counted as a liquid, and you are only allowed a certain amount, so you may have to spend a little more on this and buy it after security, at Boots or similar.
EXCESS BAGGAGE FEES
If you travel a lot, I am sure you have had experience in being charged excess baggage fees. They are the worst! Especially on low cost flights, because this is where they make their money. They can charge around £10-£12 PER KILO, so you really don't want to be caught out. Instead, ensure that you weigh your bags before you get to the airport, by using your bathroom scales, or by using a baggage weight device, cheaply bought from a pound shop. Check the airlines baggage restrictions, and keep within them. If you need more weight, then pre-book it with the airline in advance, as it'll be much cheaper than at the airport also. If you are struggling to keep within your weight by a small margin, opt for wearing your heavier clothes to the airport, like denim, and heavier shoes. Also, decant cosmetics like shower gel into smaller bottles so you're not taking the whole amount, which you probably won't use all of anyway.
WATER AT AIRPORTS
With new tighter security rules, you cannot bring any liquid, gel or paste in your hand luggage that is over 100ml. This includes water. How many of us have bought a bottle of water when we get to the airport, and then had to throw it away at security? We then have to buy another one, when we get through so we have some water on the plane. (Again plane prices for just water are ridiculous!) Rather, drink all the water before security and take the empty water bottle through security with you. There are now water stations at nearly all UK airports, so you can simply fill it up again on the other side. You may not think this is necessary but water in airports can cost around £3 per bottle so, if you're a family, the costs will just add up!
AIRPORT EXPRESS TRAINS
Express trains to and from the airport are a great idea. They are usually quick and frequent, but once again, you'll pay a premium for it. If you don't drive and are opting for public transport to the airport instead, shop around. There are extremely cost effective coaches, as well as normal trains, to and from most UK airports, that could save you a lot of money if bought in advance.
LOOK-OUT FOR PROMO CODES & ONLINE DISCOUNTS
This is a general online shopping life skill that could definitely be applied to airport service shopping also. When I book or buy anything online, once I've found the cheapest price for what I am looking for, I do a quick Google search for promo codes for the site I'm looking to buy off. For instance, if I'm looking for airport parking; I will Google 'airport parking Gatwick' – I will, for examples sake, find Ace's meet and greet airport parking at Gatwick to be the most cost effective and want to book it. But, I will then do another quick Google search for 'ace parking discount' or 'ace parking discount codes'. I would then see that Ace comes up with their discount, reward and loyalty page, which informs me, if I sign up for free, I will get 15% off my booking with them.  This will apply for not only online services and shops, but there may also be offers on at the airport restaurants and retailers too. Once you start doing this, you'll never NOT do it!
USE THE SPECIAL AND ASSISTED SERVICES
Most airports have special or assisted services for those less abled, disabled, or families. Some people will take a taxi, just so the taxi driver can help them with luggage because they are travelling solo with small children for instance. Others may hire someone to assist them. Make sure you enquire with the airport if you need any special help, as they have made these services especially for people to use, and they are more than often free.
BRING YOUR OWN ENTERTAINMENT
You may think you're only in the airport for a short while, so won't need anything to do, but what if your plane is delayed? You could be sat for hours on end, and then tempted to go and buy a paper, a book, a magazine or a pack of cards from the airport shop. Again, this is all extra expenditure, at a premium price. Ensure you take a book from home, a games console, your own cards, colouring books for the kids and so on. It'll be a life saver if you do get delayed!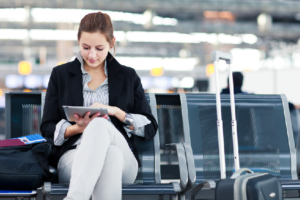 We hope that these tips for saving money at the airport will come in handy, and do what intended, save you money! We have loads of other blogs relating to travel and airports in our latest news feed, like what travel accessories to take on holiday with you, security at airports and more.
If you want to look into parking at the airport with us, do get in touch on 01293 533 000 or head to our website for an instant meet and greet parking quote.
HAPPY TRAVELS!