September Cheap Travel, Great Savings.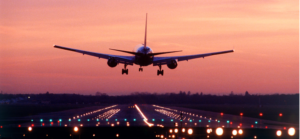 September is here and usually, by this time of the year, we are in our onesies, sitting around the fire drinking hot chocolate (or red wine!) and making homemade stews and dumplings whilst we hatch down for the winter. However, it's still warm, it's still dry and it's still around 16 degrees in the middle of the day! This is not normal UK weather practice but, as I'm sure you'll agree, it's just wonderful!
We've had simply the BEST summer ever. In fact, factually speaking we haven't had a summer heatwave season like this since 1976 when it was 32 degrees every day, for a long time! We haven't been far off that though! We have had more consecutive days of sunshine since we can even remember and it's had an effect on how we've been holidaying.
The common and traditional way to holiday in the UK is to go for two weeks, to the European sunshine, during the 'summer holidays' (June – Sep). However, our unexpected, somewhat tropical weather thrust a spanner in the works and many opted to embrace home soil for once. It was a huge blessing especially for families that hadn't already booked their summer holiday abroad or couldn't afford the usual extortionate kids summer holiday prices so were staying anyway. Families, couples and groups alike decided to stay and play in the UK and either enjoy their home towns, gardens, walks and parks in the sunshine, or head to the UK coast to cool down in the sea.
We met and parked the cars of so many who were flying south to Cornwall, Devon, Kent and Bournemouth from the northern airports like Edinburgh. We even met some people at the airports that went to Europe for the sunshine, only to come back and tell us that the weather had been better at home!
So we are now in September and the sun is still shining and the kids are just about all back to school. What could be better? Well, flight prices right now, that's what!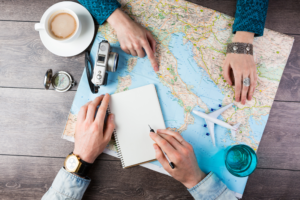 If you don't have any little ones going back to school, haven't taken a break / holiday yet, or simply want to go and enjoy the less crowded resorts; the best time to travel and holiday is now. As you can imagine, flights and holiday costs soar when the kids are on holiday and a week-long trip for two can cost ridiculous amounts, even though you don't have kids.
Our tip if you don't have little nippers? Holiday after the summer holidays, because;
– You'll get to enjoy the UK during Summer (especially if we have a summer like this one)
– Holiday resorts aren't as busy
– Holiday and flight prices aren't as high
– Airports and airport parking aren't as busy / expensive
Being in the holiday industry ourselves, we've seen a HUGE influx of retired, single and couple holidays and breaks being booked from September. So much so, we thought we'd share this knowledge and let you know of all the cheapest deals from the UK airports we work from.
London airports are not only our busiest, but the UK's busiest. We run our meet and greet parking service from all of the South's busiest airports including Stansted Airport, Gatwick Airport, and Heathrow Airport.
We wanted to let you know just how cheaply you can fly from these airports to the rest of the World, at this time of the year.
Below we look at each airport that we personally run our meet and greet parking at, and show flight prices that are even cheaper than a full tank of petrol.
London Gatwick Meet and Greet Parking
London Gatwick airport is, for us, a favourite, as it is where our meet and greet airport parking began.
At Gatwick, we are one of the preferred airport parking companies and one of their longest running meet and greet parking at Gatwick operators. Gatwick themselves have stamped us with an approved Gatwick parking operator badge and we simply love working from here.  You can read more about our Gatwick Approval here.
If you're looking for summer to be continued and want to fly to the sunshine from Gatwick airport you can fly London Gatwick to France, Italy and the Netherlands for around £30-£50 RETURN! If you're looking to go further afield for sunshine you can fly from London Gatwick to Croatia, Cyprus, Turkey and Malta for just £80-£110 return in September.
If you want to look at flights, to anywhere in the world, we recommend Skyscanner. Not only does it let you check the prices for 'everywhere' if you don't have a destination in mind, but is also lets you check the cheapest prices for the whole month if you don't have to fly specific dates.
If you do decide to fly from Gatwick airport, make sure you check out our meet and greet airport parking at Gatwick. It's so much cheaper than you might think and it's the easiest way to park at Gatwick, by far.  You can get a quick quote here for meet and greet parking.
London Stansted Meet and Greet Parking
London Stansted is an extremely popular airport for those in the South, and that's because it's connected to so many countries, at a great flight price. 1000's of people use our meet and greet parking at Stansted Airport because, not only do people seem to prefer to drive to Stansted Airport, it's often the cheapest way to park, especially if you book in advance.
Return flights from Stansted airport right now are ridiculously cheap! You can fly to Denmark, Germany, France, Poland, Italy, Norway, Switzerland, Spain and the Netherlands for just £18-£30, return! You can fly from Stansted to the Middle East for around £240 return, Canada from £250 and America from just £180 return!
If you're looking to book a flight from Stansted, have a look at Skyscanner for the most updated prices from all airlines. If you've booked your flights already, make sure you check out our meet and greet parking at Stansted airport for no hassle and an inexpensive way to park at Stansted airport.  You can get a free, quick quote here for Stansted meet and greet parking.
London Heathrow Meet and Greet Parking
London Heathrow is not only the largest in the UK, but it's the largest airport in Europe too. Heathrow airport is the 2nd busiest airport in the world based on international traffic and connects 75 million passengers annually. The most popular and most travelled route is from Heathrow to JFK (John F. Kennedy International Airport), flying 2.9m passenger's year.
Right now, flight prices to New York's JFK Airport from London Heathrow airport are from just £225, return.
You can arrange a great European break to France, Spain, Luxembourg, Italy, The Netherlands, Sweden and more from just £60-£90 return. What's more, these prices carry on into October, so if you want to wait until the official end of summer on the 23rd September, then book in advance now. You could fly return from London Heathrow to Morocco from just £119, Abu Dhabi from £240 return and Canada from £250 from Heathrow in October.
If you do decide to go more longer haul for a couple / few weeks, we've got some amazing prices on our meet and greet parking at Heathrow for longer stays. Enquire on the website or give us a call on: 01293 533 000 and our booking team would be pleased to help.
Edinburgh Airport Meet and Greet Parking
Working from Edinburgh airport also, we see so many different kinds of travellers as it's one of only three main airports serving Scotland. So although we have the usual holiday makers, couple retreaters, family gatherers etc., this is an airport where we meet and greet many business travellers. Each and every week, some of our most loyal customers will park their company cars through our meet and greet parking at Edinburgh Airport. These people fly to the UK and Europe, and often further afield on a daily, weekly or monthly basis.
Not only will cheaper flight prices be hugely helpful to these guys, they'll also benefit from their Ace meet and greet loyalty discount too, so their commute won't have to cost them a fortune anymore. (Well at least until the next summer holidays next year!)  Take a look at our loyalty and discount packages, which membership do you have?
One of the most popular flights from Edinburgh is to the London Airports, as many will work in the capital, or simply get connecting long haul flights to the rest of the World. Did you know that flying from Edinburgh Airport to London in September is from just £24 return right now!
Even if you drive your car straight to departures, let us park your car for you with our meet and greet at Edinburgh, you'll still find it cheaper, and much easier than a train.
Europe flights are also dirt cheap from Edinburgh, with you being able to fly to over 10 destinations including France, Denmark, Belgium and Germany, in September for under £40 return.
Birmingham Airport Meet and Greet Parking
Birmingham Airport is an operating base for BMI Regional, Flybe, Jet2.com, Ryanair, Thomas Cook Airlines and TUI Airways, so of course you're going to find some cheap flights to Europe from here too. Although not as cheap as some of the other airports we work at in the UK, flight prices are still so much lower from Birmingham airport at the moment.
Birmingham airport is a great choice to fly from for all those living in the West Midlands, and if you are anywhere but the city, the best option is to drive to the airport and use our meet and greet parking at Birmingham. From just £6 a day, you can drive from your house to the terminal, and have us meet and greet you, and park your car for you. No hassle, no stress and cheaper than many other parking at Birmingham Airport.
You can go eat cheese and drink wine in France from just £34 return in September, go play some golf in Spain with flights from just £38 return or go visit family in Poland from just £45 return.
For up to date airport parking prices, head to the website for a quote. For flight prices, we used Skyscanner, but please be aware that all prices were correct at the time of publishing and they're subject to change.