Meet and Greet Parking with Ace Airport Parking.
You have booked your flights and have exciting travel plans – what's next?
Now you need to decide how you are getting to the airport and where you are leaving your car.
Your car is an essential, it transports you around, and most of us cannot do without one.
So, think carefully, choose an airport-parking provider who offers a service that you can trust to look after your car, after all, without it, life becomes stressful.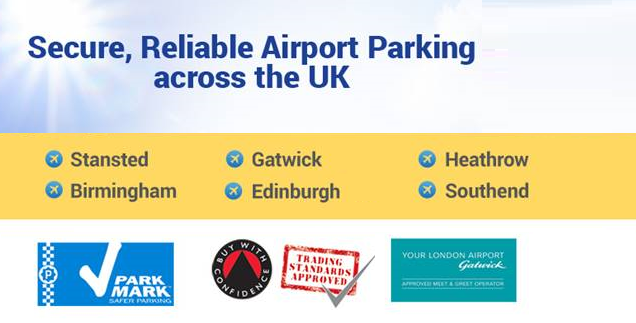 Choose Ace Parking, a family-run business who is fully licensed to operate from airport terminals, and who have a bunch of accreditations and 5* reviews, from real passengers who have rated their service good or excellent.
Even better, choose Meet and greet parking, which cuts out walking and waiting, and the need for transfers to the terminal, saves you from having to look for a parking space and saves you time, allowing you to check-in at your leisure.
When you book Meet and Greet parking at either Edinburgh, Gatwick, Heathrow, Stansted, Southend or Birmingham you simply meet your fully insured, friendly driver close to the terminal, they will then conduct a quick check of your car, taking your keys to park it, in their secure car park, close by. Read more about how it works.
On your return to the airport, simply notify your driver and they will be waiting for you with your car, that way you can make your way home. No waiting for the shuttle bus, or pricey taxis, you can be on your way home in no time at all.  Do not worry, even if your flight departs or returns at an unsociable hour, Ace Airport Parking are open, and their drivers will meet and greet you with a smile.
No fuss, no waiting and a short stroll to departures, this easy and convenient service is a must for anyone flying from the airport.
Ace Airport Parking operate their premium meet and greet services at airports across the UK. These include:

We welcome you, and will see you at the terminal!