Travelling to celebrate St Patricks Day…
Travelling to celebrate St Patricks Day…
Out of all the other national days, St Patrick's Day has to be the most widely celebrated Worldwide. From the huge festivities in Ireland itself, it rolls across the pond to the UK, further spreads to Europe and far beyond to the likes of New Zealand and even Australia!
There are patron saint days for all countries in the UK. England has St George's day, Wales has St David's and Scotland has St Andrew's, but for some reason these days aren't really even celebrated in their own countries, never mind around the world. St Patricks day is by far the most renowned, and people from across the globe adorn themselves in green, wear silly hats, attempt to drink Guinness, try their feet at some Irish dancing and party into the wee hours.
Some countries and cities have huge parades and
festivities and here we round up some of the biggest and best, whilst also looking at what airports are best to fly from, if you fancy going on a short break to go celebrate St Patrick's Day this year.
New York New York
It's widely known that the American's have a love for the Irish, especially in New York. Every year, along with smaller celebrations all over the country, there's a huge annual St Patrick's Day parade in New York where a procession marches joyfully along 5th Avenue and passes by famous and honoured New York attractions including, of course, the beautiful St. Patrick's Cathedral.
Where to fly from
You can fly from London Heathrow Airport to New York for a week with                Air India right now for just £400, so you can celebrate St Patrick's Day and then enjoy a little spring break in the big apple! (Prices checked from Skyscanner and subject to change)

To make your journey even easier, make use of our meet and greet airport parking at Heathrow Airport. You can easily Book Online or to find out more about meet and greet parking, click here.
 Oslo, Norway
Starting in 2009, and founded by the Oslo St. Patrick's Day A
ssociation (a group of Irish expats), the Norwegian Irish Society gathers on Jernbanetorget to have Norway's largest St. Patrick's Day Parade. It is then followed by a huge family friendly St Patricks Day after party and festival.
Where to fly from
Right now you can fly from London Stansted to Oslo for just £35 RETURN with Ryan Air, meaning you could go for a week and enjoy the St Patrick's Day celebrations on the 17th March. (Prices checked on skyscanner and subject to change)
We also have our meet and greet airport parking at Stansted Airport, making your journey as stress free and enjoyable as possible. Simply drive to departures and we will park your car in our super secure car park for you. When you're back we'll meet you, with your car, at arrivals. To book your airport parking with Ace, simple head to our website www.aceairportparking.co.uk
Spain – Cabo Roig
The biggest parade in mainland Europe to celebrate St Patricks day will be held in Cabo Roig, Orihuela Costa. Starting early it includes floats, bands, samba dancers, drummers and many different associations and groups clad in fabulous costumes. Former Irish Prime Minister Taoiseach, Brian Cowen, will be the Grand Marshall and he'll also be joined by former minister Frank Fahy and Martin Quinn, a former mayor of Galway.
Where to fly from
Flights aren't the cheapest from the UK to Alicante (the nearest airport to Cabo Roig) in March with flights from Edinburgh Airport over the weekend from about £200 and from London Gatwick from around £180, staying for a week. We do think, if you're looking or a fun way to celebrate St Patrick's Day, it'll be worth the journey though!
We offer our meet and greet airport parking at Edinburgh Airport, as well as Gatwick airport parking too. For the easiest, and often, cheapest way to park at the airport head to our website to get a free quote on seconds.
Sydney / Perth – Australia
Ok, so this isn't exactly a place to fly for a 'short' break, but if you're looking to go to Sydney this month, be sure to check out the biggest Paddy Day celebration in the whole of the Southern Hemisphere! Around 80,000 people hit the streets of Sydney to celebrate St Patricks Day at the parade, and it's one of the only events officially supported by the Irish government. You won't miss out if you're on the west coast of Australia either as Perth celebrates St Patrick's Day too, not just for the day, but for WHOLE week!
Where to fly from
Return flights from London Gatwick to Sydney, for a couple of weeks, will set you back around £680 and you'll catch the Paddy Day celebrations. Perth is slightly cheaper from London Gatwick with £640 return, or London Heathrow Airport to Perth at £670 return. (Again all flights on Skyscanner are as of today and subject to change)
Meet and greet parking is especially well priced for long stay parking, and saves you time and effort on public transport with lots of luggage. Juts drive your own car to either London Gatwick departures, or London Heathrow departures and we'll meet you there to securely park your car for you. When you arrive back a couple of weeks later we'll be there with your car, exactly as you left it, ready to drive away. For more info on meet and greet parking click here, or to book head to our website www.aceairportparking.co.uk
Tokyo – Japan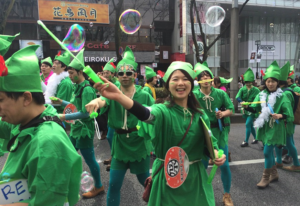 Japan seems to be on everyone's wish list at the moment, especially this month as the famous Cherry Blossoms are about to bloom, with the cherry blossom festival being held in Tokyo from around 21 March 2018. Randomly, the Japanese also have huge celebrations for St Patrick's Day too! With the largest parade being held in Tokyo, it was first started in 1992 by Irish Network Japan as a way to introduce Ireland and its traditions to the Japanese. And it's grown bigger and bigger every year since.  It's not one to miss as…when else would you get to see the already awesome eclectic Japanese clothing style, fused with green and amusing fancy costumes, with a beautiful cherry blossom backdrop!?
If you're already going for the cherry blossoms, you may have booked your flights in advance. If not you can get to Tokyo from London Gatwick airport or London Heathrow airport for around £650 return according to Skyscanner today.
Have you booked your airport parking if you're going long haul to Japan? Don't spend unnecessary time and energy walking from far away airport car parks, or having to get shuttles to the terminals with all your baggage. Contact us here at Ace Parking and see how much you can save, money and time-wise, with our meet at greet airport parking at Gatwick (North and South Terminals) and London Heathrow meet and greet too.
This is just a selection of 5 of our most fun / unlikely countries to hold huge parties and parades this St Patricks Day, but nearly every city around the World will celebrate this day, on the 17th March 2018. Where will you go if you celebrate it, or where will you be? You may already be flying to a country, like Japan, and never thought they'd have Paddy Day parties!? Do check it out if you're looking for some fun and if you are flying anywhere, do give us a call or visit our website for all your airport parking needs.