Save On Meet & Greet Parking When Going On Holiday.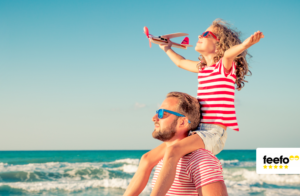 The spring feeling has arrived a little early this year, and we all know that this means only one thing….sunshine and holidays!
Going on holiday is 'good for you' it's fact!  It is our chance to recharge the batteries, get away from the daily stresses and struggles of routine and enjoy relaxation, exploring new sights and extra time with loved ones, friends and family.  If you are lucky to have a trip planned, than you might want to read further.
So, your holiday is booked and your case is ready to be packed – take charge and get the small pre-holiday hassles ticked off too, so that you can count down the days until your holiday starts.
By booking your meet and greet airport parking early, and not on the day, you can make big savings. Plus if you have used Ace Airport Parking before, you automatically qualify for a loyalty discount of 15%, which will be taken off automatically, when you log in.  Here is more about how our loyalty plans work.
A pre-booked parking space gives you one less thing to worry about on the day of your flight, and means you can simply drive to your departure terminal, meet with our uniformed drivers and leave the rest to them.  This leaves you free to make your way to departures, no stress, quick and easy.
We offer holiday meet and greet parking at Birmingham, Edinburgh, Gatwick, Heathrow,  and Stansted and we can guarantee your holiday parking will cost you less if you book in advance.  
There are a number of reasons to choose Ace Airport Parking, but the best one is 'parking is easy, simple and stress free'.  Here are ten other reasons why you should choose Ace.